The Sandpaper

Author Scott Bilker Publishes a Novel By His Late Dad, Harvey Bilker
Aug 23, 2014
by Eric Englund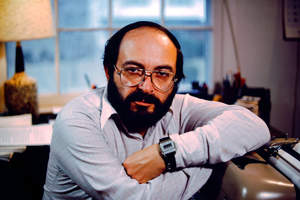 The Bitch of Broadway is a novel written in 1992 by the late Harvey Bilker, but until this year it was never published. His son, Scott Bilker of Barnegat Township, has taken on the job of publishing it, and it's scheduled for release on Oct. 1
The younger Bilker is himself an author, having written three books on debt management.
"I've gone the self-publishing route, and you're finding more and more authors going that way because of the difficulty with major publishing houses," he said.
Bilker said his father's book takes place along the Great White Way in the 1970s, when cues were given by voice rather than computer. It is told in the first person by Mark Gessel, an 88-year-old nursing home patient who recalls his love affair with Melissa Lourdes.
When Melissa was 15, she was permitted by her actor-father to marry a much older person, who was Brent Lourdes, a successful Broadway producer. At age 35, Melissa meets and falls in love with Gessel and discovers the pleasures of sex for the first time. Eventually, she spurns Gessel and turns toward nymphomania. Melissa's Broadway power permitted her to have affairs with any number of theatrical people by a mere whim.
Ironically, Gessel's tribulations as a playwright and producer become the backdrop to his steamy affair – one with which he can never come to terms.
The Broadway setting was very suitable for the author, who was a Broadway stage manager, a member of Actors' Equity and a script reader.
"Both my father and my mother (the late Audrey Bilker) were very familiar with the Broadway scene and the real-life dramas of actors and actresses," said Bilker. "My mother also collaborated on some of my father's books and stories."
The couple moved to Barnegat in 1999 after Harvey's retirement. Harvey died in 2012 at the age of 79 after a lengthy illness.
"My parents also lived in New York, and Los Angeles," Scott Bilker said. "When my father was growing up in Philadelphia, he had developed an interest in writing."
Bilker said his father had a very versatile career. At one time, he was executive director of the Science Fiction Writers and Speaker's bureau.
"It wasn't unusual to have Isaac Asimov and other famous writers come over to the house," he said. "My parents were good friends with them."
Harvey Bilker was one of eight editors (medical and associated sciences) for the Random House Dictionary of the English Language. He authored more than 200 stories and articles published in anthologies by book houses including Simon and Schuster, Putnam, Random House and Pocket Books, as well as national and local magazines. He wrote three books published by Contemporary Books: Photojournalism: a Freelancers Guide, Writing Mysteries That Sell and Writing Science Fiction That Sells.
He was also a freelance reporter-photojournalist for The New York Times and a lecturer and adjunct instructor at Ocean County College. For more than 40 years, Bilker was a registered pharmacist, and was a consultant to the pharmaceutical industry and a medical writer of documents regarding new ethical drugs for submission to the Food and Drug Administration.
With that writing pedigree, it certainly seems obvious Scott Bilker would have taken the same career path.
"Actually, I didn't at first," he said. "I originally started out pursuing engineering. My parents didn't push me into writing. They told me it was important that I do what I wanted to do."
Scott is the founder of DebtSmart.com and the author of three books – Talk Your Way Out of Credit Card Debt, Credit Card and Debt Management and How to Be More Credit Card and Debt Smart.
"Even though my father had works published by major companies, trying to sell a book to a publisher is a whole other matter," he said. "From what I see, they want something that's going to be a real moneymaker. If they don't see that, they're probably not going to be interested. After getting nowhere, you find that it's the author's responsibility for selling a book, just like it's a rock band's responsibility to sell a recording. I'm very glad that I can do this for my father."
Source: TheSandPaper.net